The International Ecological Economic Promotion Association (IEEPA) has been devoted to promoting the sustainable development of environment and economy. It has held many conferences, research, pilot project in cooperation with the United Nations, the World Bank and other relevant international organizations. IEEPA strives to promote member enterprises to become the kick-starting player for sustainable pilot projects, contributing to the SDG set by the United Nations.
In order to strengthen interaction and explore a more efficient cooperation model so as to promote China''s ecological economic development, on August 17, 2018, Mr. Li Junyang, the Vice-President and Secretary General of IEEPA, paid a visit to the United Nations Office in China. Mr. Li met with Mr. Nicholas Rosellini, the new United Nations Resident Coordinator and the Chief Representative of the United Nations Development Programme in China.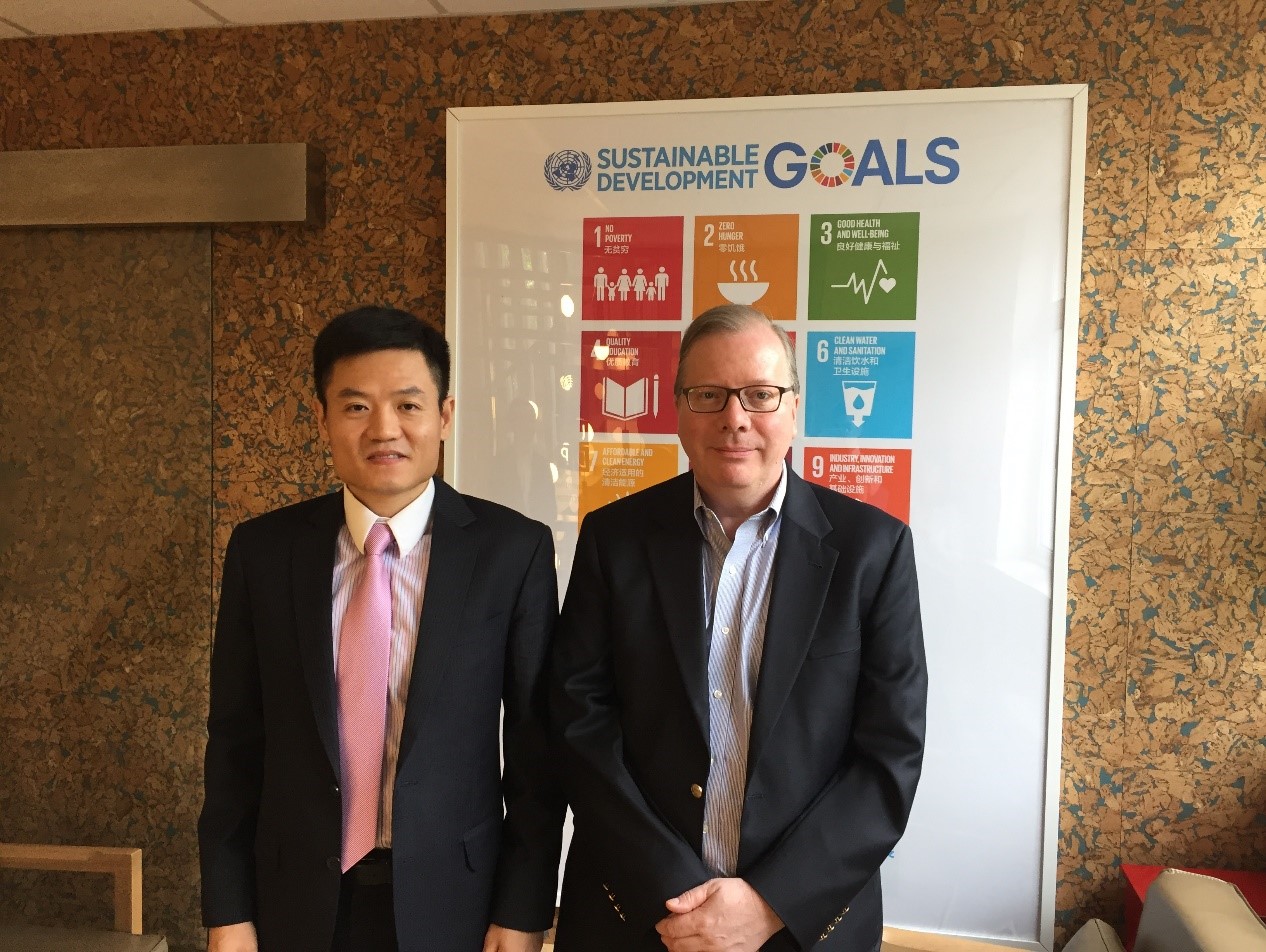 Vice-President Li Junyang reviewed the interaction and cooperation between IEEPA and UN agencies in the past. He pointed out that IEEPA has been paying attention to parallel development in ecology and economy in its past projects, in order to better preserve our environment while promote economic growth at local scale. As we all know, most of the environmental pollution problems do not occur naturally, but associated with economic development. Solution to this problem has become a persistent problem in many developing countries in the course of economic transformation after first stage of industrialization. Sustainable development is the answer to that.
Mr. Li Junyang pointed out that the IEEPA is currently carefully selecting projects for short term works, such as coal mine methane power generation projects. It produces clean energy while tackle with air pollution emissions control, significantly reduce PM2.5 emissions in coal mining areas, and actively combines economic and ecological benefits. On the other hand, IEEPA is also conducting research on eco-bank mechanism, with the research result to be published in academic journals soon. It provides an answer to China's call to make green mountain and blue water as our treasure by integrating market mechanism with environmental protection at micro scale.
Mr. Nicholas Rosellini briefed Vice-President Li Junyang on the Sustainable Development Goal (SDG) 2030. He commented that the work of IEEPA overlaps with the goals of the United Nations and he sees IEEPA's work as a positive contribution. IEEPA's work is of profound significance and value to the implementation of SDG 2030. We hope that both sides can have more cooperation and joint exploration.
Mr. Li Junyang also introduced the development of IEEPA in recent years, especially under the leadership of President Hao Jiming. New work plan, methods and concepts are implemented. IEEPA has involved academicians from the Chinese Academy of Engineering and the Chinese Academy of Sciences in recent works, and jointly promoted and brought into full play the policy research and project demonstration of the IEEPA's top-level design function.
Mr. Li Junyang also formally presented to Mr. Nicholas Rosellini the invitation to 2018 World Economic and Environmental Conference (WEC). Mr. Rosellini expressed his best wish to the success of WEC and willingness to support the WEC.
Mr. Wan Yang, Assisstant Country Director of UNDP, also attended the meeting. Mr. Wan Introduced to IEEPA recent focus of UNDP's work in China, including cooperation with Ministry of Industry and Information Technology (MIIT) in Taiyuan, Guilin, Shenzhen and other cities. Both sides have agreed to strengthen interaction to consolidate concrete collaborations.