Under the guidance of academicians from Chinese Academy of Engineering and Chinese Academy of Sciences, IEEPA has been attaching significant importance to cooperation of industries, universities, research institutes and end user. IEEPA also established a bridge for communication with famous universities in major countries around the world, and conducted exchanges with them, including University of Nottingham in UK, Yeungnam University in ROK, National University of Singapore, Kyoto University in Japan, University of Sao Paulo in Brazil. As COVID-19 is spreading across the globe, IEEPA single-handely initiated and use limited money for scheduling as well as procurement of medical materials. Acting as a social force from NGO, IEEPA has provided assistance to some research institutes in Japan, Korea, Italy, UK and Belgium. In hope of promoting the general public in all countries, especially the research strength that leads the world's development, IEEPA has been contributing to the development of global diversity and boosting research groups from typical universities, who put harmonious coexistence among human, nature and future as their target. All of these proactive and leading actions pave the way for the practice of the idea of building a community of shared future for mankind.
On April 30th , IEEPA again received a thank-you letter from University of Birmingham. Prof. Jhon Frampton expressed their sincere appreciation for IEEPA and Global Energy Interconnection Development and Cooperation Organization of their donation of protective supplies against COVID-19. "We've been focusing closely on China's effective actions that safeguard the health of people outside Wuhan from the grieve consequences brought by this epidemic, and we're also deeply moved by your help and donation to us and UK residents as well at this critical juncture, "he said that. As an old Chinese saying goes, "A friend in need is a friend indeed. "We are looking forward to more cooperation in the near future.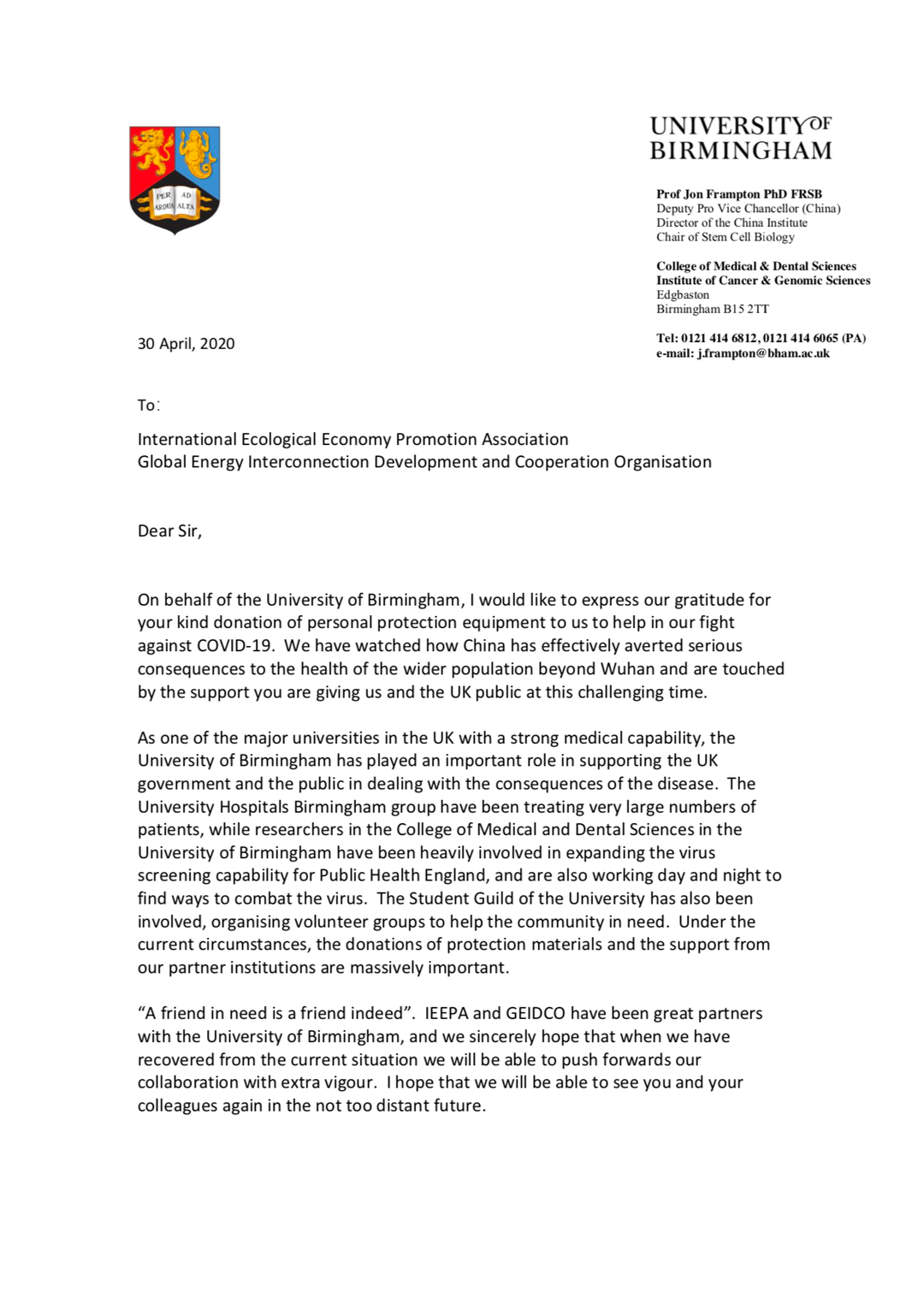 The University of Birmingham is a British university with a strong medical background. It has played a significant role in supporting the UK government and their nationals to fight against COVID-19. Zhong Nanshan, a Chinese respiratory specialist, was awarded an honorary doctorate by the University of Birmingham. The Affiliated Hospital of the University of Birmingham has always been responsible for the treatment of a myriad of patients. In addition, researchers at the University of Birmingham School of Medicine have been actively involved in expanding the screening work against this pandemic of the Public Health Department in England, and studying the treatment of novel coronavirus around the clock. The University of Birmingham Student Union also became a participant, organizing volunteer groups to provide assistance to those in need.
This donation not only promoted the friendship between the non-governmental organizing units on both sides, including social groups in China and research institutes in UK, and international organizations across the globe, but also strengthened the relationship of mutual assistance between our two peoples. In the meantime, it shows our love and mutual support and embodies the belief that love respects no borders. In this fight against COVID-19, we've been standing closely together though thick and thin and jointly declaring an all-out war against the pandemic.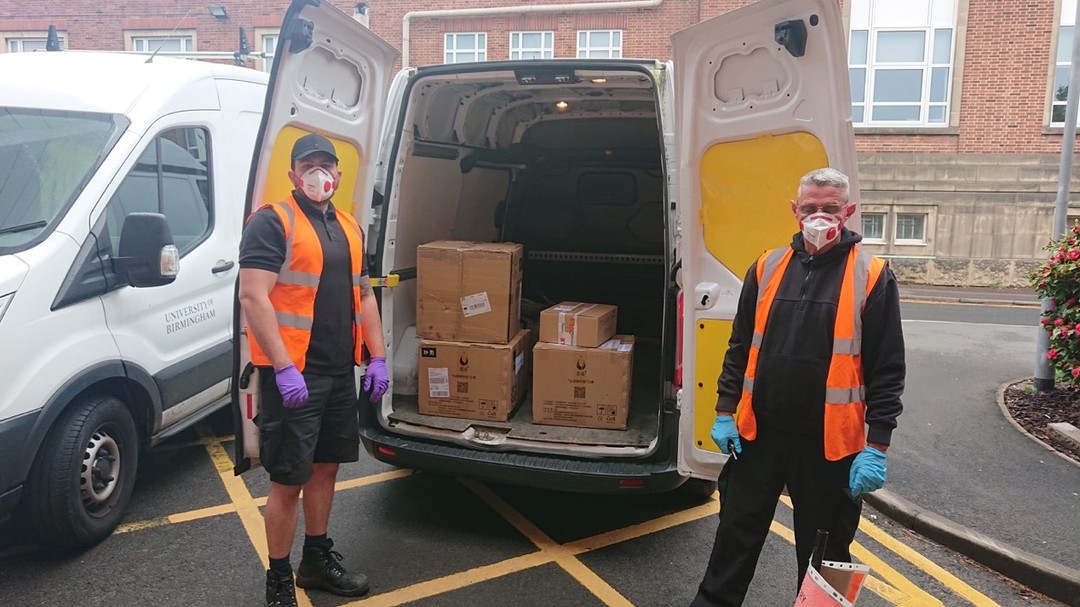 Winter will eventually pass, and spring is sure to come. After the winter we'll see millions and millions of shining stars.
Extended reading: The University of Birmingham has been recognized by the world for its high-quality and research in multiple fields for more than a century. The University of Birmingham is a cradle for many outstanding alumni, including British Prime Ministers Stanley Baldwin, Neville Chamberlain and Robert Anthony Eden; the inventor of mass spectrometer as well as a Nobel Prize winner, Francis Aston; Li Siguang, father of modern Chinese geology; Yao Tongbin, father of "two bombs and one star"; Zhong Nanshan, Chinese respiratory specialist; , Ke Jun, founder of the Chinese metal physics and discipline regarding the history of metallurgy etc. As of the end of 2017, 11 Nobel Prize winners, 3 British Prime Ministers, and 5 foreign heads of government have emerged from the University of Birmingham.